Middle East
War
Pentagon identifies 2 US Marines killed in Iraq firefight with ISIS
Gunnery Sergeant Diego Pongo and Captain Moises Navas are the first US service members killed in Iraq since August
The U.S. Defense Department on Tuesday, March 10 identified two Marines killed near Makhmour, Iraq during an mission against Islamic State.
Gunnery Sergeant Diego D. Pongo, 34, and Captain Moises A. Navas, 34, both of 2nd Marine Raiders Battalion, Marine Special Operations Command, were killed on Sunday.
The two Marines were accompanying Iraqi security forces "during a mission to eliminate an ISIS terrorist stronghold in a mountainous area of north central Iraq," a Defense Department statement read.
It took six hours for a quick reaction force to recover the bodies, said Colonel Myles Caggins, the spokesperson for the U.S.-led Coalition against ISIS.
The New York Times reported that the Marines and ISF were clearing a "well-defended" cave complex of ISIS and that Delta Force operators were called in to recover the bodies.
The two Marines are the first U.S. military personnel killed in operations against ISIS since August and their deaths come nearly a year after the U.S.-led Coalition claimed the recapture of the group's territory in Syria.
Coalition commander Lieutenant General Pat White offered his personal condolences in a letter on Tuesday, saying "their courage to confront the evil of ISIS, while advising Iraqi Security Forces, in close combat is a testament to the Coalition's steadfast commitment to achieve our goal to defeat ISIS permanently."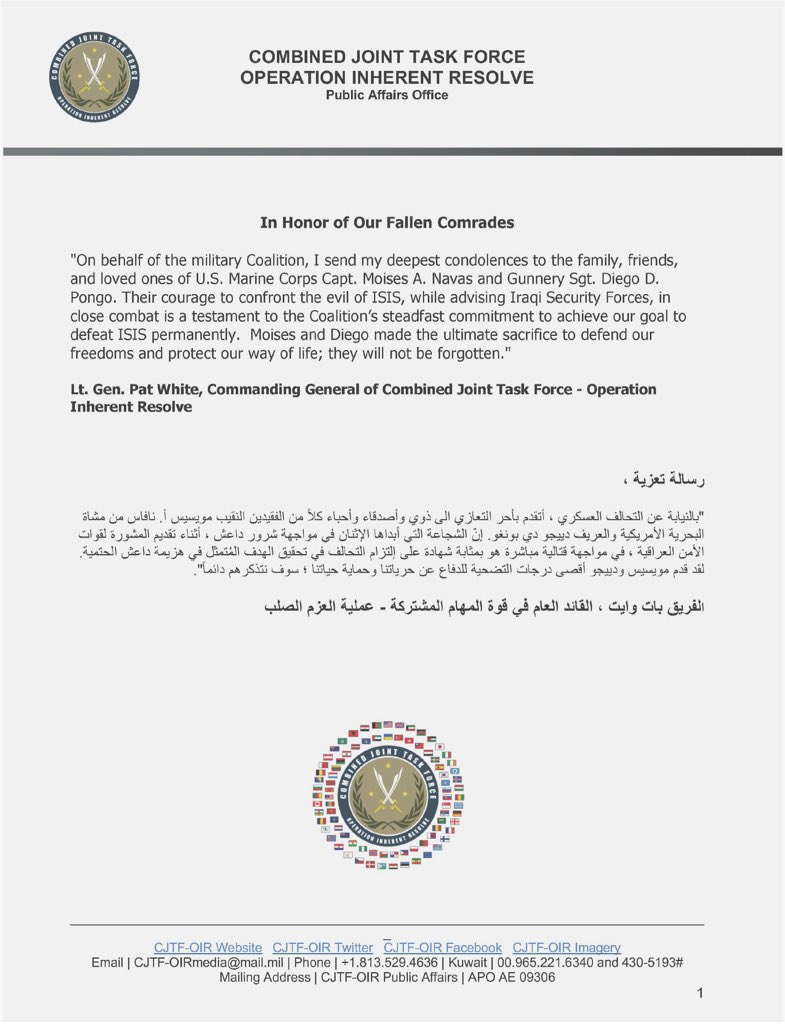 Makhmour lies in Iraq's disputed territories, between control of the federal government in Baghdad and Kurdistan Regional Government in the north. The Defense Department has warned that ISIS has sleeper cells in Iraq and exploits security gaps to maintain hideouts in the disputed territories.
Though sleeper cells remain, the last significant ISIS-held territory was captured in March 2019 by the predominantly Kurdish-led Syrian Democratic Forces, backed by the U.S.-led coalition.
The Pentagon is considering reducing the U.S. military presence in Iraq while the Trump administration and NATO have discussed increasing the alliance's troop numbers in Iraq to offset any potential American drawdown.
'It's very easy for ISIS' – Peshmerga commander warns of return to Iraq mountain town