Afghanistan security council threatens 'all legal options' against privatization of war
Blackwater founder Erik Prince has floated a plan to replace most US forces with private military contractors
Afghanistan's National Security Council has said the government opposes the prospect of privatizing the 17-year-old war in the country and would pursue legal options to prevent any attempts to profit from the conflict.
Erik Prince, founder of the U.S. private security company Blackwater, recently floated the idea of using contractors to fight the war instead of military forces.
In an interview with NBC News in August, Prince said his plan would see 2,000 U.S. Special Forces remain in Afghanistan along with about 6,000 private military contractors.
"Under no circumstances will the Afghan government and people allow the counterterrorism fight to become a private, for-profit business," the Office of the National Security Council said in a statement on Thursday, October 4.
"In no manner does the government of Afghanistan condone this destructive and divisive debate."
Furthermore, the ONSC said: "As a sovereign nation, we will consider all legal options against those who try to privatize war on our land."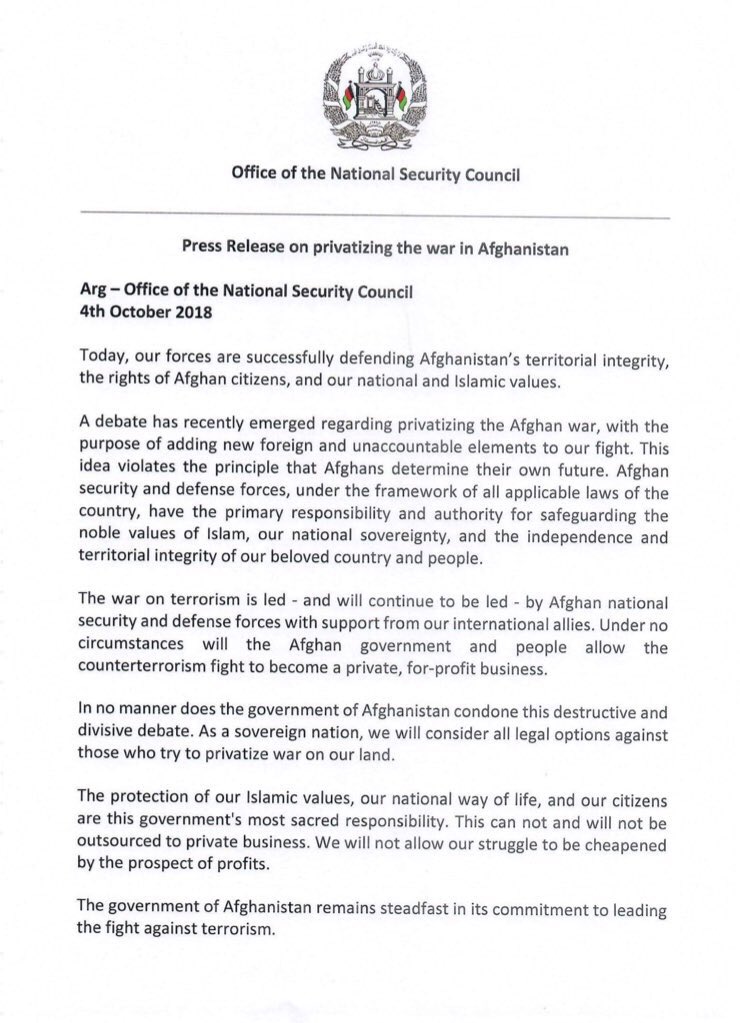 ---
Update, October 5:
"Ghani is corrupt, inept and like the Beltway military industrial complex has a strong incentive to continue to milk the American tax payer to the tune of $62 billion per year whilst standing by as Afghans continue to get slaughtered," Prince told The Defense Post on Friday.
"Any commander facing such staggering and sickening losses of his own people should never exclude any option to preserve and support his forces on the ground."
"Ghani's support is dwindling and he is increasingly isolated. I have recently met with a broad cross section of Afghan society, political and military leaders and it is absolutely true to say there is widespread support for ending the chaos with new creative and effective solutions," he added.
---
Erik Prince's plan
Prince, a former Navy SEAL who currently heads a private security company called Frontier Services Group, first proposed the idea of privatizing the war last year with a plan to send about 5,000 private military contractors to support the Afghan military.
"No such proposal from Erik Prince is under consideration. The president adopted the South Asia strategy after months of deliberation among his key national security advisors," a U.S. National Security Council spokesperson told NBC in August when the network aired a report on Prince's renewed attempts.
President Donald Trump announced a new "conditions-based" South Asia strategy on August 21, 2017, which included an increase of approximately 3,500 U.S. troops in theater, bringing to approximately 14,000 the total number of troops in Afghanistan.
In the second quarter of 2018, the U.S. Department of Defense reported 26,922 U.S., Afghan, and third country national contractors, an increase of 275 from the previous quarter. Nearly one-third support the Afghan security forces in logistics and maintenance roles.
Over 16,000 personnel from 39 NATO member states and partner countries are deployed in support of NATO's Resolute Support Mission to train, advise and assist the Afghan National Defense and Security Forces.
Prince told NBC that he had not spoken to Trump about his plan but said he knew the president was "frustrated."
Trump "gave the Pentagon what they wanted … and they haven't delivered," he added.
"It's not a private army," Prince said. "It's a very clear delineation of who's in charge – the Afghan government, working for a U.S. government official, funded by the United States at a fraction of what we're spending now."
Prince said his plan would cost about $3.5 billion, saving the U.S. government about $52 billion.
The U.S. Congress appropriated $47.1 billion in Department of Defense overseas contingency operations funding to support the OFS mission in Fiscal Year 2018, about $15 billion of which is direct costs of U.S. forces in Afghanistan and security assistance for Afghan forces.
"This idea violates the principle that Afghans determine their own future," Afghanistan's ONSC said on Thursday.
"Afghan security and defense forces, under the framework of all applicable laws of the country, have the primary responsibility and authority for safeguarding the noble values of Islam, our national sovereignty, and the independence and territorial integrity of our beloved country and people."
Afghan security forces
Prince's proposition comes as the ANDSF continues to face casualties from both the Taliban and Islamic State-Khorasan Province.
Early last month, Taliban fighters killed nearly 60 members of the security forces in a spate of attacks across the country's north.
A month earlier, the Taliban's launched an extraordinary raid last month on the provincial capital of Ghazni, with the insurgents holding large parts of the city for days even as Kabul and U.S. forces maintained the Afghan government was in control.
In conversations with The Defense Post, a number of Afghan soldiers and police officers detailed chaos in communication and coordination among the government forces over the urgent need for additional troops, ammunition and supplies.
On the record, top Afghan security officials have acknowledged up to 100 security personnel were killed and wounded while over 200 insurgents were killed during the Taliban's assault on Ghazni.
On average, 50 members of the Afghan National Defense and Security Forces – the army, air force and police – are killed on a monthly basis, according to the latest data available. The Special Inspector General for Afghanistan Reconstruction, the U.S. Congressional watchdog, says that 6,785 Afghan soldiers and police were killed in the first 10 months of 2016, and 2,531 in the first five months of 2017.
Last November, SIGAR said U.S. Forces Afghanistan classified or otherwise restricted information previously made public, including "important measures of ANDSF performance such as casualties, personnel strength, attrition, capability assessments, and operational readiness of equipment."
USFOR-A said the casualty data belonged to the Afghan government, and the government had requested that it be classified, according to SIGAR.
---
This story was updated on October 5 with a statement from Erik Prince.